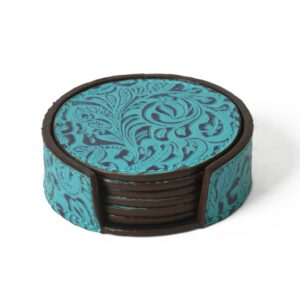 Leather Coasters COM 114117
Leather Coasters
Mousmi Creative International offers a range of premium quality leather coasters that add a touch of elegance to your home decor. Made from top-grade leather, these coasters are durable, water-resistant and easy to clean. They come in various designs and colors, making them a perfect addition to your living space or office.
ABOUT PRODUCT
Material: Hand made Flower Embossed 100% Real Leather
(DIA * Hight ) of products: 4.5 X1.5 inches
Products Weight: 353 Gm
SET OF: 6 (SIX)
Color: Teal & Brown flower Embossed
Design: Plane
Shape: Round
Size: 4 inch Circle
Other Specification: Handmade
To know more about this product, Please feel free to send us your enquiry. We will revert back within 24 hours.
On Time Delivery Agreed MOQ/Consignment
Handmade
Dispatches directly from factory
Materials: Pure genuine leather
Payment terms on discussion