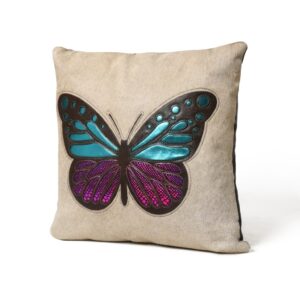 leather cushion covers CHM 214239
Premium leather cushion covers for home decor created by highly skilled artisans.Shop for the best leather cushion covers/ Non faux leather covers from our collection of exclusive, customized & handmade products.
ABOUT PRODUCT
Product : Leather Cushion Cover
Colour: engrave designe cut of cut Butterfly havingTeal and Pink metalic leather inlay on white real Hair-on
Material:100% real Hair on Leather
Clousure Type:Zip -Chain
Weight :500 GM
Product Dimension:18 X18 Inches
Design Type:Diagonal Lines
To know more about this product, Please feel free to send us your enquiry. We will revert back within 24 hours.
On Time Delivery Agreed MOQ/Consignment
Handmade
Dispatches directly from factory
Materials: Pure genuine leather
Payment terms on discussion