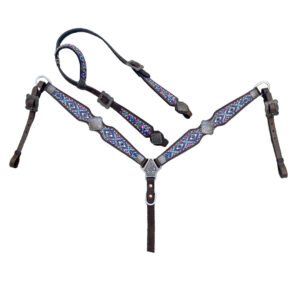 Leather Headstall Sets HSBM 114125
Leather Headstall Sets is an extremely high-end Leather Headstall and Breast Collar Sets that will satisfy comfort and performance needs. The Headstall and Breastplate are constructed by skilled craftsmen using hand-crafted leather craftsmanship. It is guaranteed to last for a long time.
ABOUT PRODUCT
Headstall Type: Western headstall and breast collar set for horse set
Color: Chocolate Brown
Base Material: 100% Real Geunine Argentina Cow leather
Headstall Size: Horse Size  13″ to 18″ (Range variation available for bulk orders)
Product Features : 
Set decorated by rainbow aztiec print.
All nickel hardware set
All buckels are copper ribit.
On Time Delivery Agreed MOQ/Consignment
Handmade
Dispatches directly from factory
Materials: Pure genuine leather
Payment terms on discussion