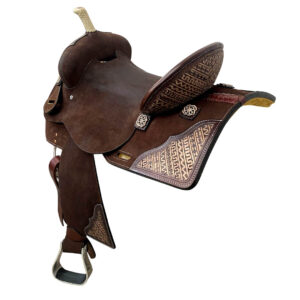 Leather Western Saddle MSD 103114
Leather Western Saddle is an extremely high-end saddle that will satisfy your comfort as well as performance needs. The saddle is constructed by skilled craftsmen using hand-crafted craftsmanship. It is guaranteed to last for a long time.
ABOUT PRODUCT
Saddle Type: Barrel
Colour: Same as Picture
Saddle Material: Premium Quality Leather
Base Material: Build on a strong fiber tree- Raw hide covered
Saddle Size: 16″ inches (13″ to18″ Range variation available for bulk orders)
Gullet: 7″
Skirt: 27″
Horn: 3.5″- Raw hide braided
Swell: 12″W
Cantle: 5″
Stirrups Material: Aluminium
Stirrups Size: 5″ X 5″
Weight: 12.4 Kg (26.54 LBS)
To know more about this product, Please feel free to send us your enquiry. We will revert back within 24 hours.
On Time Delivery Agreed MOQ/Consignment
Handmade
Dispatches directly from factory
Materials: Pure genuine leather
Payment terms on discussion